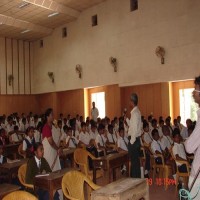 VISION and MISSION

Vision:


To provide quality education in engineering and technology through efficient teaching and giving exposure to good engineering practices with the familiarity of national and international codes of practice and by developing a strong bilateral relationship with industry and leading professional institutions within country and abroad
Quality policy:
To enrich and enhance the students potential by providing a satisfactory, productive and accountable learning environment that sustains instructional excellence while adapting to the changing industrial and societal needs through continuous improvement in compliance with the requirements of quality management system.
Goals Short Term:
Achieving academic excellence by 90% pass in the university Examinations.
Achieving 90% placements for students.
Providing scholarly vibrant environment for learning, teaching, Research and development for students and staff for their personal and professional growth.
Helping students excel in communication, inter-personal and Entrepreneur skills.
Helping students foster and develop the qualities of leadership and Problem solving skills to face the professional and personal Challenges in life.
Inculcating the qualities of integrity, honesty, loyalty and patriotism among students.
Stimulating a desire among students and faculty members to make full use of infrastructural facilities and update themselves to serve the society and the nation as well.
Fostering a harmonious, cordial and tripartite relationship among the management, faculty and students for their respective growth and for establishing a congenial academic environment in the college.
Automation of all the facilities in the college.
To construct quarters for faculty members.
Goals long term:
Achieving academic excellence by 100% pass in the university Examinations.
Achieving 100% placements for students.
To foster academic and research collaboration with foreign Institutions of international repute.
To evolve this institute into a learning and research centre on a par with other colleges in Telangana in engineering and technology by undertaking nationally and inter-nationally acknowledged research and development works.